Micro Plasma Aerosol Charger
SMAC-4V2
The model SMAC is a neutralizer and is designed to neutralize the charged fine particles ranging from a few nm to sub-um suspended in air by using the Surface-discharge Microplasma Device(SMD), which was originally developed by National Institution of Advanced Industrial Science and Technology(AIST).
The SMAC has the same capabilities as the 241AM neutralizer and is able to neutralize charged particles effectively by generating localized electrostatic field with micro-structured electrodes.
The SMAC can be replaced the current charge neutralizer utilizing radioactive sources.

Products
Features
A special qualification is not required as use no radioactive materials.
The performance equal to 241AM aerosol charger.
Built-in compact power supply.
Less than 50ppb Ozone concentration.
Specifications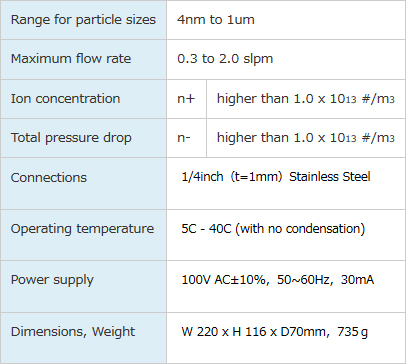 Applications
As a general particle measurement(necessary item).
As a replacement of 241AM.
Available as a uni-polar charger.
FAQ
Is the different model provided for large flow rate?
Such model can't available at present but it is suggested to connect the several existing SMACs in parallel.
Can SMAC operate with the different power supply in overseas' countries?
It is recommended to operate SMAC with an auto-transformer as this is only operated with 100VAC+/-10%, 50/60 Hz.
Priciple
The Dielectric Barrier Discharge (DBD) is well known to produce highly non-equilibrium plasma at atmospheric pressure, and this method has been established to effectively generate atoms, radicals, and excited species with energetic electrons at moderate gas temperature. Using DBD by surface-discharge, a bipolar ion generator was developed for aerosol charging or neutralization, and named it as Surface-discharge Microplasma Aerosol Charger (SMAC).